---
Text published by Arne Buhrdorf - translated by Klaus Mabel Aschenneller, Jens Hinrichsen


---
1955 Nina was born on 11.03.1955 in East Berlin (Friedrichshain), her parents are the actress Eva-Maria Hagen and the writer Hans Hagen.
The marriage has been very soon divorced and Nina and her beloved dad could rarely see each other. Secretly Nina "bunked out" on her roller skates to see him.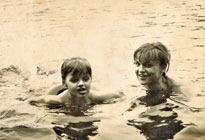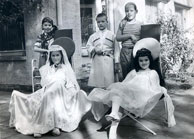 Nina grows up with "foster-father" Wolf Biermann from the age of 9, who is closely observed by the dreaded East german Secret Poilice, the so-called "Stasi"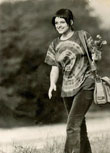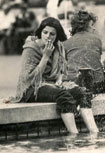 1970-1976 Nina becomes a "Street Runner", she wins prizes, for example by the Committee for Entertainment Arts (1974). Her musical idols are Janis Joplin, Tina Turner, Otis Redding, Lotte Lenya, James Brown and many others.
She gets known in the GDR, plays in films such as "ABC of Love" ("ABC der Liebe"), "Today is Friday" ("Heute ist Freitag") (1974), "Love trapps" ("Liebesfallen") (1975-76), "Getting married the female way" ("Heiraten weiblich"), "Hostess" (1976), "Unser Stiller Mann (1976) and hits the theatre stage with her mother in Annaberg-Buchholz (1970).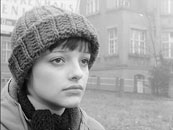 1974 Nina collaborates with the band "Automobil", they land a smash hit that even finds listeners in the west: "You have forgotten the colourfilm" ("Du hast den Farbfilm vergessen")





1975 Nina records more songs with "Fritzens Dampferband" and other musicians.





1976 After the East German citizenship was withdrawn from Wolf Biermann on the 16th of November Nina stands up for his re-entry - without success.
On 06th of December Nina gets also expatriated from the GDR. She travels to West Berlin by train on December 10th, going on to Hamburg where she was welcomed by Wolf Biermann.

In London, where she comes into contact with punk and reggae, Nina meets the singer Ari-Up (Ariane Forster) from the group "The Slits". 1977 With the help of Wolf Biermann Nina gets in touch with the record company CBS in January. For inspiration, she flys by invitation of Juliana Knepler to London, where Nina takes the main role in Julia's final film "Go Blue Girl". In London, where she got in touch with punk and reggae, Nina meets the singer Ari-Up (Ariane Forster) from the group "The Slits" and they write the song "Pank" together which is published later on the first LP of Nina Hagen.
Back in Berlin, Nina knows what she wants ... She meets three brilliant musicians of the band "Lokomotive Kreuzberg" (Manfred Preaker, Herwig Mitteregger and Bernhard Potschka). Shortly afterwards Reinhold Heil joined them: The Nina Hagen Band is born.
In November 1977 an agreement with CBS and manager Jim Rakete gets signed.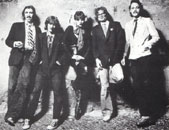 1978 A musical and social revolution begins: Everybody in Berlin speaks about Nina Hagen and her performances. On February 11th she made her first appearance on the talk show "Je später der Abend", followed by invitations to the programmes "Bitte umblättern" (August 21th), "Litera-Tour X" (October 1th), Pop 78'.
The band released their legendary first album "Nina Hagen Band". They celebrate huge success with over 250 000 copies sold, and Germany is turned upside down.
On the 9th of December the "Nina Hagen Band" has a show on TV-"Rockpalast" in Dortmund's Westphalen Hall which gives the band a huge popularity boost.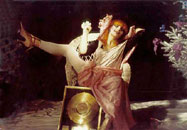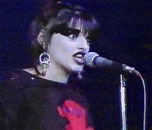 1979 The Nina Hagen Band tours through Germany and with their charismatic front woman Nina they are present in all the media.
She plays a role in Ulrike Ottinger's film "Portrait einer Trinkerin".
The second album has already more than 200 000 reservations before the publishing, but the pressure to succeed is too big and Nina splits up with the band and takes an offer for a new film role in the Netherlands.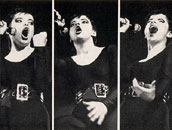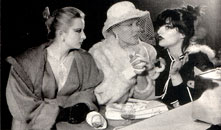 In the Netherlands Nina meets Herman Brood and Lene Lovich, they rotate together the film "Cha Cha". On the soundtrack "Cha Cha" are the first new songs from her to hear.
Nina accompanied Herman and his band "Wild Romance" at their concerts.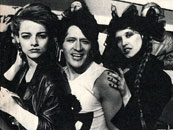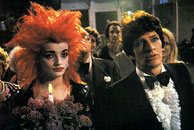 Nina enjoys her freedom, while the lawyers in Germany dispute about the separation of the Nina Hagen Band and the cancellation of the recording contract with CBS.
The second album "unbehagen" is recorded separately from the band and Nina.
Despite the separation, the media war and complications the album "uncomfortable" becomes Nina´s most succesfull release and Hitsat No.2 in the the German Charts !
Among the Singles "African Reggae" and "Hermann hiess er" the first elaborate video clips are created.
Nina meets the Dutch guitarist Ferdinand Karmelk and starts a new band with him.
Nina has become the queen of Punk ! She now speaks out and on August 9th Nina´s explicit lecture on how woman can best masturbate on the Talk show Club2 was named the scandal of the year.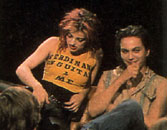 1980 Nina creates a mega-show with the group "OUT" and "Who Killed Rudy" on the stage: The "BABYLON WILL FALL SHOW". The first concert in Hamburg was a disaster and the tour was cancelled.
Nina now moves to the US and signes with a new management (Bennet Glotzer, the former manager of Frank Zappa) to produce rock music in English.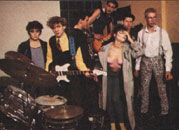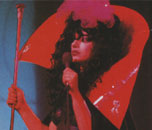 In America an exclusive 10"-LP with a selection of songs from the first two albums gets published. Nina sees life in Hollywood and New York and with fresh inspiration Nina returns to Germany after 6 months with a new "look "new songs and a triumphant tour.
She appears with the songs "Ziggy Stardust" and "Who Killed Rudy" at the "Rock Night" on TV and elates the audience by her vocal range.
On September 25th (ARD) Nina is a guest on Alfred Biolek's show "Bio's Bahnhof".







1981 Nina lives with many friends in Malibu. She claims to have a nocturnal UFO phenomenon, which gives her also creative arts skills.
n the 17th of May her daughter Cosma Shiva is born, the father is Ferdinand Karmelk.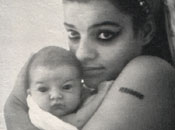 1982 Nina signs a new record deal with CBS: Nina records her most vanguard LP "Nunsexmonkrock" and breaks away from Ferdinand.
She is now mother, father, nun and punk ... Just Nina.
She comes to Germany and presents in the "jukebox" the song"Smack Jack" in person. In the accompanying video clip Nina appears fourfold, in shocking - but well loved - outfits.






1983 Nina is working with Giorgio Moroder and her world-famous record appears: "Angstlos" and in the English version "Fearless".
The successful songs "Zarah" and "New York/N.Y." are also published in English as well as a maxi-released remix.
Nina is guest at the TV-Music-Show "Bananas" (Oktober 4th).
Nina lives in the U.S. and visits the Berlin Tempodrom and excites her fans. She sings partly some new songs with Cosma in her arm (Trümmerfrau, 1-2-3 wir sind alle....).

1984 The fearless-tour leads Nina and her band from the USA, through Europe and whole Germany.








1985 Called as a bird of paradise Nina lives everywhere: USA, England and Germany. She is guest in Talkshows and TV-Reports "Bitte umblättern" (Juni 10th). She releases the album"in Ekstase", which also appears in an English version: "in Ekstasy".
Originally the album was supposed to be released under the title "Balhaus Blitz Extasy No. 5".
Nina is invited to numerous U.S. talk shows.
In Brazil she plays at the festival "Rock in Rio" (Januar 11.-20.th) in front of over 100 000 fans.
She is now finally a world star.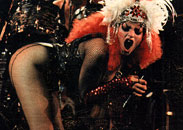 1985-86 Nina appears in Japan with a legendary hairstyle. Near Tokyo she sings four songs by Brecht and the "Habanera" from "Carmen". She will be accompanied by the New Japan Philharmonic Orchestra conducted by Eberhard Schoener. The event is called "5th Classic Rock Night" and will take place as part of Expo 85 in December 1985.
In Germany the "Nina Hagen TV show" is broadcast on the 25th of October.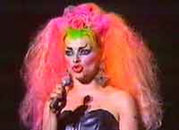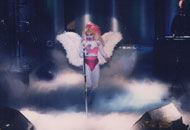 This year the record contract with the CBS expires and will not be extended.
Nina moves to Berlin again and causes excitement in talk shows.
With a "Double Feature"-program, Lene Lovich and Nina goes together on tour through Europe and release the song "Don't Kill The Animals", which will be featured in the music show "Formel eins" (November 11th).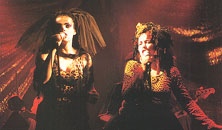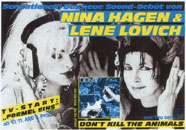 1987 Nina is working on new songs, with the peace song "World Now" Nina joins Alfred Biolek in the show "Mensch Maier" (April 16th, ARD). In the Dutch television show "De Nachtshow" Nina sings with Herman Brood the duet "Das war so schön" (April 17th). A short article about Nina can be seen in the TV show "Showfenster" (April 10th, ZDF).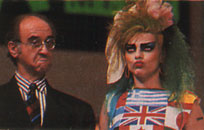 Nina's moving to Ibiza. A "punk wedding" on a ship off the island is staged with press impact. The single belonging to it "Punkhochzeit" published in english version as "Punkwedding" and is presented in numerous talk shows. Nina and Iroquois become permanent guests on television: "Live", "Club Ziggig", at the IFA on "Na siehste! (August 31th), "An evening for Fuchsberger" (June 13th).
During this time political songs like "Süd Afrika", "Tschernobyl" and "Schlümpfe & Elfen" were written, which can only be heard live. In the Dutch television program "De Nachtshow" Nina sings with Herman Brood the duet "Das war so schön" (April 17th)
Nina is guest at the "Olof Palme Gedächtnis-West Festival" (September 12th)







1988 Nina gives great concerts, nevertheless she gets no new record contract. Anyhow, the media and TV world is not imaginable without Nina. Her appearance in "Wetten dass .." provides excitement and brings fresh air into the slightly dusty TV studios. Additionally Nina is the worldwide representative of the Goethe Institute and she is on stage in San Francisco for two theatre productions.
Nina has a live show at the Berlin Marathon Rock.
She lives in Ibiza and writes her biography "Ich bin ein Berliner" which appears with Goldmann Verlag.
She sings on Udo Lindenbergs Album "Casa-Nova", wonderful songs such as "Vopo", "Klavierlehrerin" and "Airport" occur. Even with her mother Eva-Maria Hagen Nina sings a duet on the album "Das mit den Männern und den Fraun...".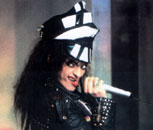 1989 Nina meets Jean-Paul Gaultier.
She is popular in the Parisian scene and meets musicians and true artists like Pierre & Gilles.
With a new band finally a new album with the new record company Mercury appears: "Nina Hagen". Also new is Ninas rather simple and natural look and the soulful rock-music style of the plate.
The songs "Hold me" , "Las Vegas" und "Love heart attack" are successful presented in TV. Nina is engaged as "Aunt grief box" by the channel Tele5 for the youth-cult show "POP".
On French TV Nina and Nana Mouskouri reinterpret together the worldwide hit "Lili Marleen."
The austrian television (ORF) invites Nina to join the talk show "Club 2" on June 27th on the topic "A sky full of flying saucers - UFO".






1990 Nina's son Otis was born. Franck Chevalier is his father with whom she lived together in Paris.





1991 Nina's new album"Street" appears. In the video clip "In my world" she is seen in a future town with UFOs.
She synchronizes the daughters voice in the U.S. film "Look Who´s Talking Too" "Kuck' Mal Wer Da Spricht 2" and appears in TV shows like "Alles Nichts Oder", "Fernsehgarten", "Kessel Buntes", "2 Im Zweiten", "Nimm Dir Zeit", "Superfan", "Ja oder Nein". der Tochter ihre Synchronstimme und tritt in TV-Sendungen wie "Alles Nichts Oder", "Fernsehgarten", "Kessel Buntes", "2 Im Zweiten", "Nimm Dir Zeit", "Superfan", "Ja oder Nein" auf.
Also a new song appears on the movie soundtrack of Lars von Trier's "Europa".
She plays a guest role in the TV series "Ein Schloß am Wörthersee" (19. December).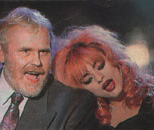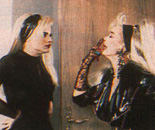 1992 Nina proves herself as an actress again in the movie "Lilien in der Bank" by Filmmaker couple Marianne Rosenbaum and Gérard Samaan with Georg Thomalla.
Ninas "Street-Tour" begins, she is also in the TV channel Premiere a moderator of the children's show "Romeo". In "Talk im Turm" Nina shows her temperament, and gives her opinion as to the ears.
Finally, the West citizen can hear Ninas early works. After a long time the album "Rock aus Deutschland Ost" appears with songs from Nina's GDR-times.
Nina records a new single "Go Ahead"for a Swatch commercial. She is also a guest singer at Adamskis "Get Your Body!" to hear and is with the corresponding video clip in the MTV heavy-rotation to be seen. Other publications with Udo Lindenberg "Romeo & Juliaaah" are on the soundtrack to "Tycoon".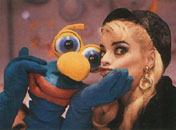 1993 Under great expectations the album "Revolution Ballroom" was published, producers are Dave Stewart and Phil Manzanera. The album gets the best reviews. The video for the single "So Bad" sets standards. Parallel she also cooperates with the German addition of the musical "Hair". The troupe presents the song "Let the sunshine in" at "Wetten dass ..?".
Away from any drawer thinking Nina sings a duet with Heino in December.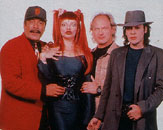 1994 Nina starts the Revolution-Ballroom-Tour. Parallel she is again a guest singer at Freaky Fukin' Weirdoz' "Hit Me With Your Rhythmstick", a cover version of I. Dury. Furthermore Nina is seen in videos and performances on TV. "Liebesbarometer", "Wenn die Putzfrau 2 mal Klingelt" with Hella von Sinnen and on the 11th of February in the "NDR Talk Show".
Nina is heard in the cartoon film "Däumeline", in which she speaks and sings the role of "Senora frog."
Nina really rocks on the album from and with Dee Dee Ramone "I Hate Freaks Like You".
In the end of the year Nina is on the side of Udo Lindenberg on his 25th jubilee stage. On this occasion the CD "Hut Ab" appears on which Nina interprets the Udo song "Rock'n Roller".
Her first journey to India leaves dominant impression in her artistic creations. The Indian mythology is part of her deeds and actions. Nina films and is working on a documentary about the Embassy of the Himalayas and their teacher Babaji: "OM GOD'S WILL".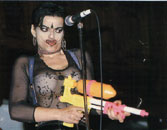 Nina is working on new projects: In Tim Burton's animated film "The Nightmare Before Christmas" she speaks and sings the tragic and beautiful role of the doll Sally.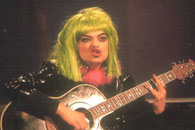 1995 Nina lives in Los Angeles and is actively involved with the animal welfare organization "Peta" which fights against animal testing.
Nina writes new songs and goes on tour with the American women's punk band "Snap Her".
The new album "Freud Euch" is on the trade from November 4th and also the first single "Tiere" deals with the issue of animal welfare.
Nina presents the MTV Music Awards in Paris.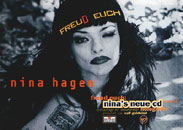 1996 The English version of the album "Freud Euch" , entitled "Bee Happy", partly with completely new songs, will be published.
On the CD "America" of the group BAP Nina sings two songs, including the single "Weihnachtsnaach" .
Nina sings with duet partners like Herman Brood "50 The Soundtrack", Eva-Maria Hagen "Wenn ich erstmal losleg..." and Christopher Franke "Alchemy of Love".
In addition, she lends her voice to the computer game "America" und hat eine and has a guest role in the series Tatort "death in space". ("Tod im All").
Nina commutes between California and Germany and is strongly committed to a dying hospice near Cologne.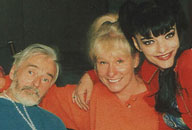 1997 For the fairy-tale film "Wasilisa" Nina films in the Ukraine, in addition Sempel Peter also workes on a film about Nina with the working title: "Life is like a colorful carpet."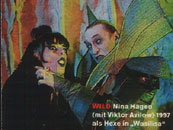 1998 Nina and Meret Becker tour through Germany with Bertolt Brecht-songs "We are both called Anna" ("Wir heißen beide Anna") .The tour is an artistic success, unfortunately the sound recordings will not be published.
With the duet with Thomes D."Solo", Nina enters the first time since the 90s to the Charts again: The single is rising up to the top 20!
Nina is more and more respected as an artist and becomes an identification figure for young talents.
Another new song appears on the Eva-Maria Hagen CD "Joe, mach die Musik von damals nach...".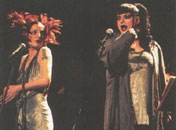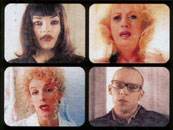 Nina is working again on many projects, like the animal welfare organization Peta "Höllisch Wild", she is also committed to solar vehicles and records the maxi-CD "Eisern Union" for the football club of the same name.
On TV she is guest at Johannes B. Kerner, "B-Trifft," "Peep", "Verona's World", "Jörg Pilawa" and last but not least she is guest together with her mother and her daughter at "Boulevard Bio", a braodcast with "The Hagens".
A family tradition continues: Nina's daughter Cosma Shiva Hagen in recent years became one of the most successful young actresses in Germany and won among other things the "Golden Camera".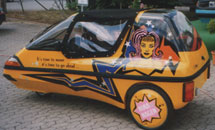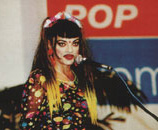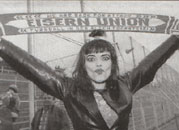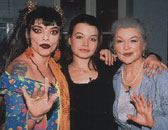 1999 The film by Peter Sempel "Punk & Glory" premiers on February 11th within the framework of the "Berlinale" Filmfestival.
Nina releases the CD "Om Namah Shivay"with Indian songs, which could be ordered only in the distribution of her own home page, just as her documentary film "Om God's will" ("Om Gottes Willen").
The animated films "Rudolph" and "Hot Dogs" are enhanced by the synchronous voice of Nina.





As an announcer of horror films she is seen on the channel "13th Street", she is guest in the broadcasts "Zimmer frei" (June 13), "Nachtcafe and Alida Gundlach" who visits her in her house in Malibu.
Nina and Cosma work together for the "We are family!" advertising campaign of Peek & Cloppenburg.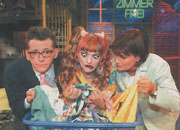 Musically it is now very versatile: Nina sings the Celia Peachum at the reopening of the "Three Penny Opera" ("Dreigroschenoper") by Bertolt Brecht. On the compilation "Pop 2000 ..das gibt's nur einmal" she interprets the song "Männer" by Herbert Grönemeyer.
Furthermore she is on the album "Adios" of the group KMFDM and she was on Tommy HenriksensDebut.
With the group Oomph! the successful song "Fever" ("Fieber") appears, with its own artistic and sophisticated video clip. Musically it is now very versatile: Nina sings the Celia Peachum at the reopening of the "Three Penny Opera" by Bertolt Brecht. On the compilation "Pop 2000…das gibt´s nur einmal " she interprets the song "Männer" by Herbert Grönemeyer. Furthermore she is on the album "Adios" of the group KMFDM and she was on Tommy Henriksens Debut-single. With the group "Oomph!" the successful song "Fever" appears, with its own artistic and sophisticated video clip.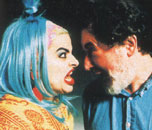 2000 Nina returns with her new album "Return of the Mother" and the single song "The wind has told me a song" ("Der Wind hat mir ein Lied erzählt") a strong voiced Zarah Leander cover version, Nina is back to the German charts. Even the video is running successfully in the heavy rotation of music channels. Thereupon she gets invited to sing the official promotional song of the world exhibition Expo 2000 in Hanover:"The World is beautiful" ("Schön ist die Welt"), by Franz Lehar. Television appearances in "Show Palast", "Missfits & Verwandtschaft", "Family History-The Hagens' (July 6th)," Gottschalk", "Berlin Begegnungen" and "Amado & Antwerpes" follow.
Nina is on stage a lot for live rock concerts and so-called "Indian Nights" in which she presents traditional Indian songs. The "Om Namah Shivay" CD will be published new with a different cover and an extra live CD.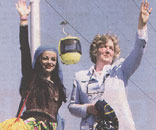 2000 On the 3rd of September Nina starts a new stage program, her own Live TV-Show in Berlin, in which many guests and friends occur. This evening also Nina's first self-produced film "Om God's will" ("Om Gottes Willen"), an India-reportage, is presented. The film runs at several prestigious film festivals too.
The Echo-Klassik-Award for her "Dreigroschenoper" is awarded to her on the 22nd of October.
The Hagen-Clan is now working together for the first time: Nina, Eva-Maria and Cosma-Shiva lend their voices to the puppets of the children's channel "Fox Kids" on World Premiere.
The new music from Nina can be heard on the compilation "The heirs of Outland" ("Die Erben der Scherben") and the concept-album from Loka Nunda "Sweet Lord".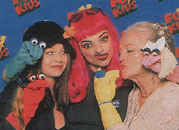 2001 Nina has many appearances in the TV show "Polylux and live at "Rock against right-wing violence", Nina Hagen TV show (live), at the Berlinale for the "Teddy Award ceremony" and on the release of the CD "Up to all the stars" ("Bis an alle Sterne") (the Rilke-Projekt).
In the duet with Rosenstolz she is guest vocalist on their Maxi-CD "Total Eclipse".
Finally officially a live CD of Nina Hagen "Krefelder Appell" is published.
By the end of the year Nina is planning a benefit gala for women in Afghanistan - the gala took place on December 23rd in Berlin Tempodrom, guests are Cosma, Eva-Maria, Claudia Roth, Annette Berr, Nena, Jasmin Tabatabai, Katja Riemann, Judy Winter, Ulla Meinecke, Ben Becker and Udo Lindenberg.







2002 Nina is in Berlin at the Berlinale, where the film "Chihiros journey into the magic land" ("Chihiros Reise ins Zauberland") is presented (Synchronous voices of the witches Yubaba & Zeniba by Nina).
Nina commutes between Europe and the USA in order to give concerts and she also finds time to record a duet with Michael von der Heide on his CD "Kriminal Tango". She has another guest appearance on the M-CD "Dance!" ("Tanz!") for the group "Schwarze Puppen".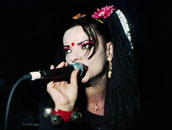 Nina appears in the TV-shows "B-Trifft" (February 22th), "River Boat" (November 29th), a show about life & death "Sterben in Deutschland", at "Gero von Boehm meets ... Nina Hagen (December 3th) and at "3 to 9" (December 20th).
This year also the book "That's why the Lady is a Punk" is released!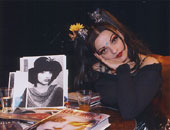 2003 Nina is guest at the Berlinale again, she is guest at the "Cinema For Peace Gala" and has numerous appearances on TV, such as "The Schöneberger Show", "70s Show", "Johannes B. Kerner" (February 26), "Rockpalast", "Herman & Tietjen", at the reportage "Katarina & Catharina" (May 9th), "DDR-Show" (September 10th), "Through the night with Nina Hagen & Catharina Tahlbach" (October 24th), "Top Of The Pops-70s" (November 8th), "Beckmann" ( November 10th), "Blonde on Friday" (November 21th) - just to name a few.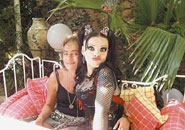 A large-scale advertising campaign for IKEA shows Nina as "Pipi Langstrumpf" at bus stops and billboards in Berlin and Germany.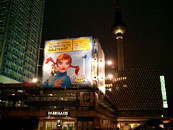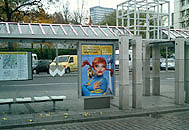 Musically the year runs very successful, because Nina records with the group Apocalyptica the song "Seemann", which Hits No 20 at the German Charts. The video enjoys heavy rotation on music channels and Apocalyptica & Nina joined in the broadcasts "Top of the Pops" (October 18th) and "Halloween Hits" (October 26th) with this song.
With a line of text "Wer bist'n du" Nina gets sampled with a song on the M-CD "Fäule" of the "Beginner".
A long-awaited dream for Nina comes true: She records with the Leipzig Big Band a Swing CD "Big Band Explosion" one on which she also sings a duet with the Danish musician Lucas Alexander.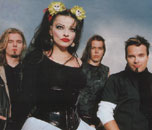 2004 Nina gets the Cultural Award from the newspaper B.Z.
Nina again is a lot on TV and starring in "Johannes B. Kerner" (January 28th), "NDR Talk Show" (January 30th) and "Mal ehrlich" (February 5).
The group "Rosenstolz" publishes on its M-CD "Love is everything" ("Liebe ist alles") a French version of the song "The Black Widow" ("Die schwarze Witwe") with Nina Hagen.
The German rock legend Udo Lindenberg & guests go on tour: "30 years Panic Power" and Nina is of course with them and sings her classic song "TV Glotzer".
In the broadcasts "Sunday Night Classics" (April 4th) and "Abba-The Anniversary Show" (April 11th) Nina inspired again by her voice and new songs.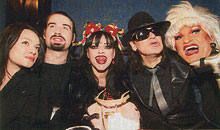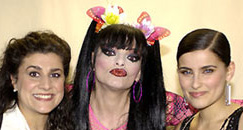 As a strident member of the jury in her genius "Nina-Look" Nina can be seen some TV shows from "Star Duel".
She has other TV appearances like the "Ultmative Chart Show," "Blonde on Friday (June 4th)," Anke Late Night "(June 15th) and" Germany's greatest hits "(July 15th) where she sings for the audience a great version of "My Way".
Musically Nina gives her fans a hot plate "Always volume" ("Immer Lauter") a song with which Nina opened the Vienna aids benefit "Life Ball".
The M-CD appears only in Austria and then immediately hits the top 40.
Nina tours with the Leipzig Big Band throughout Germany and Europe, in the USA she rocks with her American band.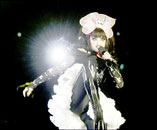 With help by designer Sascha Lutzi (ex-employee of Karl Lagerfeld) Nina launches her own fashion collection "Mother of Punk", which is presented on 8th of September at Maritim in Cologne.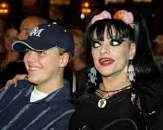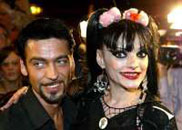 Starting October 24th 2004 Nina performs in the movie "7 dwarfs" ("7-Zwerge") by Otto Waalkes beside her daughter Cosma Shiva.
For purposes of promo Nina thereby is invited to the talkshows "Beckmann" (September 29th) and "Riverboat" (October 29th).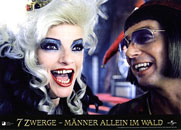 As part of the 4th International Literature Festival Berlin on the 2nd of October Nina reads her favorite stories in the "Hebbel Theater am Ufer".
On the 23rd of October Nina elated with the "Capitol Dance Orchestra the Berlin audience with a swing-gala at the Konzerthaus at the Gendarmenmarkt.
The movie "7 dwarfs - men alone in the forest" ("7-Zwerge Männer allein im Wald") is in the cinemas and the Hagen Family meets again at the premiere in Hamburg.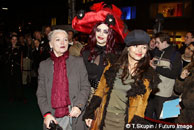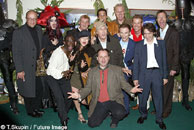 Nina can be heard vocally in Jacques-Remy Girerd's animated film "The Secret of the Frogs" ("Das Geheimnis der Frösche"). The release date is 04th of November.Information and trailer can be found at "www.video.de"
Nina also lends her voice to a house in the movie "Villa Henriette" by Peter Payer. Film launch, unfortunately only in Austria, is on 03rd of December. Trailer can be found at "www.youtube.com"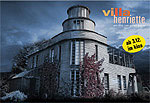 On 25th of November Nina is guest with a lot of humor in the show on the channel RTL "Who wants to be a Millionaire? - Celebrity Special" and wins 500.000, - € for the action "We help children"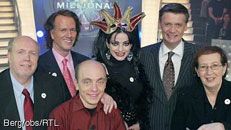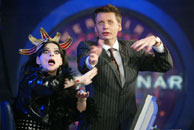 On 2nd of December the Radio / TV Station "One Live" ("Eins Live") at the Arena Oberhausen awards Germany's largest radio Award - the "Eins Live Krone".
Nina gets a prize for her life work and shows us a wild show.
As a "guess-fox" Nina is host in the cult show "Was bin ich" (18th of November and 16th of December) and shows herself with beautiful magnificent hair.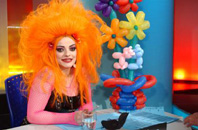 Finally the movie "Wasilisa, the Beautiful" ("Wasilisa, die Schöne") will be broadcasted on 24th of December in the German TV.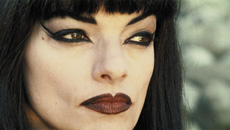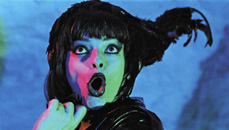 2005 the TV channel VOX broadcasts an advertising campaign with Nina Hagen with brilliant images under the working title "Ich glotz TV!"
The American public can be happy about some gigs, because Nina is in California this year.
In Germany Nina performs traditional indian "Bhajans" at the 1st Berlin Yoga Festival, also an Jazzfestival
In TV, we see Nina in "people at Maischberger" (September 6th ), "Blonde on the IFA" (September 7th) and the 70th birthday gala of comedian Didi Hallervorden "(September 8th).








On a request by Frank Zander, who makes himself a small dream come true with this collaboration, an ironic horror version of the song "Love is not worth the grief" ("Liebeskummer lohnt sich nicht") develops. The song is to be heard from 04th of November on the CD "Raven Black # 2" ("Rabenschwarz #2") by Frank Zander.
In October Nina is guest star at the New York "Dropdeadfestival". Info at: "www.wikipedia.org/Dropdeadfestival", furthermore Nina finally gets her own TV show in the U.S. and is working vigorously on this project.
Nina is not only musically industrious, she lends her exceptional voice a cartoon character for cheerful temperament in an animated film of the CAAT Studios in Hollywood.
When you listen to the orchestral fairy tale "The Journey to Snow Queen" ("Die Reise zur Schneekönigin") by Hans Christian Andersen, you can see the fact about Nina – she is a vocal acrobat!.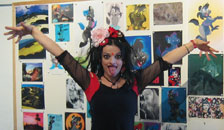 2006 Also this year Nina is guest of the 56th Berlin Film Festival. (Berlinale). At the awards gala for the Golden Bear and the Silver Bears Nina & The Capital Dance Orchestra fascinate with three well known movie hits (February 19th live broadcast on tv). At the awards ceremony of the gay "Teddy" awards, Nina shows her skills (videotaped at February 20th 2006).
Together with the Capital Dance Orchestra Nina completes the recordings for the album "Irgendwo Auf Der Welt", which presents classics. Read the press text here: "Pressetext"
For promotion purposes respective the new CD Nina appears in several TV shows, for instance the "NDR Talkshow" (March 31st), "Zibb" (March 28th), "TV Total" (April 3rd), "Hit Giganten" (May 31st), but her performance at the "Frühlingsfest der Volksmusik" (March 25th) causes discussions, as Nina, having finished her medley from the album "Irgendwo auf der Welt", she begins a jodelling duet with Florian Silbereisen. Because of a special choreography Nina proves her Talent for style an humour.
In Desiree Nosbuschs live show "Wähle Deinen Hit" (July 6th) the public is allowed to choose a song out of five, later Nina performs the song "Für mich soll's rote Rosen regnen" live.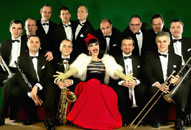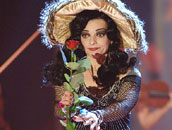 Nina sings with Sharon Stone and Anastacia in the "choir of love" the opening of the Vienna Life Ball on 20th of May 2006. Moreover Nina contributes to this evening by performing the song "Bei mir bist du schön" with the Vienna Symphony Orchestra as part of the fashion show by designer Wilbert from DIESEL.
In autumn Nina can be admired in the movie "7 Zwerge - Der Wald ist nicht genug" as a scatterbrained witch.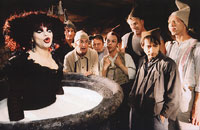 This year is probably the TV year for Nina! She is invited by the TV channel Pro7 to be a jury member of the 5th Popstars-season where she achieves great popularity at the young audience. With her 51 years she becomes the oldest Cover Girl of the youth magazine "Bravo".
Last but not least Pro7 produced a continuation with "Popstars - Ninas Engel" because the 5th Season of the casting show was the most successful because of Nina.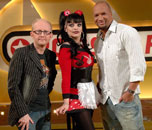 Nina is invited to so many TV shows. She sings the opening song of the live broadcast "50 Years Bravo" (October 21st), she is in the guess team with Andy Borg at "Ask the mouse" (November 25th), she is interview guest at "Hier ab Vier" (December 14th), sings with colleagues a well-rehearsed song from the CD "The Silver Sailing" ("Das Silberne Segel") at the "The Josè Carreras Gala" (December 14th) and is hosted by Talk "Johannes B. Kerner" (December 19th) and "Riverboat" (December 29th).
In between Nina tours with the "Capital Dance Orchestra" and finds time to follow her heart's desire - she organizes a "X-MAS PEACE CHARITY GALA" with many artists.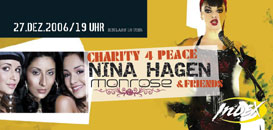 2007 For Nina, the year begins with invitations, on February 9th she participates in the 50th "Wiener Kaffeesiedler-Ball" and provides bombastic atmosphere.
At "Kölle Live" she plays the role of Cologne comedy legend Trude Herr and performs a couple of songs.
In the evening, Nina sings a few songs at the Berlin CSD (June 23th).
Nina stars at the "Almdudler Trachtenpärchenball" on September 27th in Vienna.
Nina is seen often on TV, at the Pro7 channel Nina appears as consultant for the show "Popstars on Stage".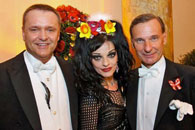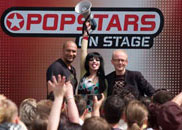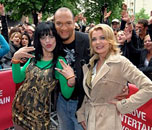 On March 6th Nina burns herself in the TV show "Extreme Activity". "Presse Info with picture
The private Nina appears at Pro7; the documentary "We are Family - Das Promi Spezial" (Juli 17th) shows Nina in Los Angeles.
Further, Nina performs in the S-RTL game show "Entern oder Kentern".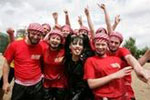 Nina appears in the talk show "Menschen bei Maischberger" (October 30th) and, also on ARD, "Pilawas großes Märchenquiz" (December 27th), further on RTL at "Guiness World Records" (November 23rd).
A lovingly homage to Nina RTL broadcasts in the program "100 Prozent" (December 2nd). On December 6th "Popstars on Stage" concludes with a live broadcast of the finale. The "NDR Talkshow" acclaims Nina on December 14th 2007.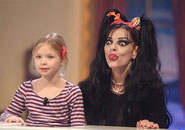 2008 On the 9th of March Nina Hagen invites on the occasion of the Iraq conference 2008 (info at: "www.irakkonferenz2008.de") to a round of talks in the "House of Democracy and Human Rights" in Berlin.
Nina will discuss about the cover up of the in war used uranium weapons and about the "background and the machinations of the warmongers".
The politician Sabine Brosowski, the epidemiologist Eberhard Greiser and film director Frieder Wagner are expected as her conversation partners.
On the 10th of March she continues in the BKA theater with Ninas "Birthday-Music-Talk-Event". With many guests and a lot of music.




Again, Nina is invited to TV game shows, for instance "Clever. Die Show - die Wissen schafft" (January 16th, Sat1) and "Das unglaubliche Quiz der Tiere" (March 20th, ARD).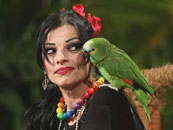 A new Nina Hagen song thrills the public at the "Wiener Life-Ball" on May, 17th. On the occasion of a fashion show of the british Label "Agent Provocateur", owned by Joe Corrè, son of Vivienne Westwood and Malcolm McLaren, there is a World premiere: Nina performs "Kinky Melody". There is a live broadcast by ORF1 and 3Sat.
Once more, Nina protests against US nuclear weapons based in the German town of Büchel, more information and pictures here:
"www.nrhz.de", "www.fr-online.de",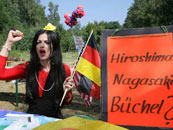 Ahoj!!! Nina becomes advertising character for the effervescent powder brand Ahoij.
Also, the Sneakers Label "Convers" engages Nina for a sales campaign with some more big stars.






It was Ninas dream to run her own TV show. "Nina-Vision" is broadcast on 15th November 2008 at Pro7, sadly only for a single episode called "Nina Hagens Ufo-Jagd".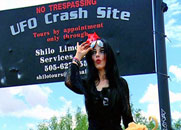 Some years ago Nina met the S.U.N.Project musicians by her daughter Cosma Shiva.
At that time, Recordings of three Songs were produced with Nina. Now they are availabe on the new CD "X Black Album".

2009 The 59th Berlin Film Festival and the Teddy Awards ceremony can count on Nina. She also takes part at the birthday party "Happy Birthday, Hella" (broadcast on April 3rd) to serenade Hella von Sinnen. There is an amusing TV-Quiz with Kurt Krömer and Nina Hagen taking part - "Star Quiz" on January 3rd.
On August 16th Dr. Karl ter Horst baptizes Nina in the church in Schüttdorf, Lower Saxon. Of course, the press shows interest in the story. Nina believes in God - no news for people who know her well.
All the year round Nina works at new songs and a book. On December 12th she takes part in a benefit vernissage of her daughter Cosma Shiva, taking part in the "Sichtbar" in Hamburg, and Nina performs a "Gospel Reggae Jam Session" together with Mighty Howard. There is a very interesting concert in the Berlin BKA-Theater on December 16th, where she performs new and old songs with friends and her band.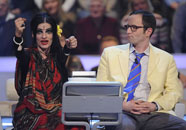 At the very end of the year there is a Christmas party for homeless and poor people in the Berlin estrel, where Nina sings Rock Oldies together with Frank Schöbel.

2010 This year was going to be exciting, as it began with a meeting between Nina and Plácido Domingo at the "Cinema for peace" gala. And the meetings with Udo Lindenberg, Jan Delay and others at the "Rockliner", a special cruise, are great, too. Nina can be seen often in TV, because the "Deutsche-Telekom" and the directory assistance "11880" produced advertising spots with Nina.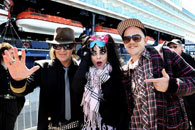 Finally, the Leipziger Buchmesse takes part, and Nina presents her book "Bekenntnisse" in the show "Das blaue Sofa". There is a printed version available and also an audio book - read of course by Nina herself. Nina starts her reading tour and performs new Gospel songs, accompanying herself with acoustic guitar. On TV, Nina stars at the show "Frühlingszeit" (April 7th), at the "Kölner Treff" (April 9th), at the "NDR Talkshow" (Mai 28th) at "Inas Nacht" (June 8th) and at the ZDF-Talk-Show "Markus Lanz" (August, 25th). The documentation "Heintje, Henze, Nina Hagen - 60 Jahre Musik in der BRD" shows moments of Ninas life (February 22th).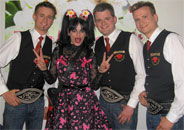 On June 16th the Gospel album "Personal Jesus" is released (Read the "press text" here, audio clips here: www.personaljesus.de). The CD contains the cover song "Personally Jesus", initially performed by Depeche Mode. The song can be heard live at "The DOME 55" (September 4th) and "Die Ultimative Chart Show" (November 12th) on TV.
Nina goes on tour with this album in the Ukraine, in Austria, the Czech Republic, France, Belgium, Spain, Greece, Hungary and Germany. The TV station Arte attends Nina tot he "Sziget Festival" and produces a report on the subject (November 11th).
Nina immortalizes her extraordinary voice on the audio book "Fayzal der Krebsfänger".






2011 Nina tours, occasionally attended by film teams, again this year. The Bibel-TV film "Bekenntnisse" is one of the results, and Cordula Kablitz-Posts film "Nina Hagen - Godmother of Punk" (Arte, August 16th). Read the "press release". The ZDF series "Kopf der Woche" dedicates a whole evening to Nina. In this show, the german-french author, musician and illustrator Françoise Cactus - member of the band Stereo-Total - draws a portrait of Nina. There are also diverse replays of documentations and portraits of Nina.
Since 2010 Nina has been working at new songs, on October 11th the CD "Volksbeat" is released. Read the "press release", here, audioclips at: www.volksbeat.com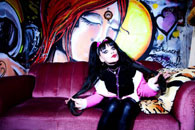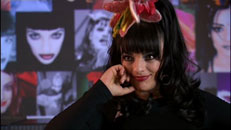 As a member of the Contergannetzwerkes Nina sings at a concert for devotion and justice at the Johannes-Evangelist-Kirche in Berlin on November 26th.
Nina sings about a brave new world in her song "Soma Koma" at Stefan Raabs broadcast "TV Total" (December 13th).

2012 This year, of course, Ninas dedication continues - as patron of PatVerfü®, her cinema spot premiered on January 31st in the Berlin cinema Moviemento. Nina was present.
Nina is guest of the TV "Harald Schmidth Show" (January 24th), at "Gottschalk live" (February 8th), "Das Sommerfest der Abenteuer" (June 4th), "Das Magazin zum Sommerfest" (June 8th), "Einfach Kathi - resch & lieblich" (Talkshow September 29th) and at the Talk- and Game show "Zimmer Frei!" (September 30th). And, in 2012 Nina is to be seen on stage.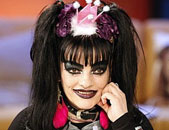 2013 Since her childhood she loves the songs of Bertold Brecht, for this reason she produces a "Brecht-Lieder-zur-Klampfe-Abend" on June 22nd at the stage of the "Berliner Ensembles". The shows are sold out, so there are follow-ups.
On June 16th the Dieter Wunderlich´s book "Unerschrockene Frauen" is released. Fearless women! Nina Hagen is, of course, one of them. Fighting for justice, Nina takes fights for the disimprisonment of Gustl Mollath at the Bayerische Vertretung, in Berlin on July 6th. In September, there is a new book: "Berlinerinnen" - 20 Frauen, die die Stadt bewegten, Nina is one of the 20 women, who "changed Berlin".
The japanese musician and producer Jun Miyake releases his CD "Lost Memory Theatre Act 1". Many guests take part, Nina is one of them.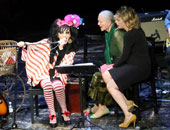 2014 The popular Brecht recitals in the Berliner Ensemble were continued during the whole year, a "Brecht night" in the Augsburg theater includes an interactive "Brecht-Lieder-Zur-Klampfe-Abend" on February 1st.
As an ambassador for peace Nina engages for the abolition of § 63 and takes part at the T4-procession on May 2nd in Berlin.
Nina fights against enforcement psychiatry and speaks for the release of Ilona Haslbauer.
There is a charity cd "Poems from enforcement psychiatry, by Ilona Haslbauer", for this production Nina composes the Song "Golgatha" in the Berliner Ensemble (read the press text).
In the ZDF program "Frontal 21" there is a report on November 11th.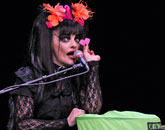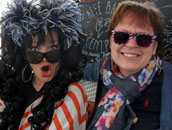 Daughter Cosma and her mother Eva-Maria Hagen join Nina at dubbing sessions for the animation feature "Die Biene Maja" (Bee Maja). The Hagen voices are - after the cinema premiere on September 7th - to be heard in a radio play.
In the Frankfurt studio Funkin Nina performed the wicked witch in Otto Waalkes' animation feature "Der 7bte Zwerg" (The seventh dwarf), which is at german cinemas from September 25th.
The soundtrack "Der 7bte Zwerg" includes two new songs by Nina, "Size doesn't matter" and "Dellamortas Tango". Her fabulous voice can also be heard in the original audio play for the feature film.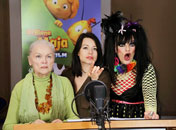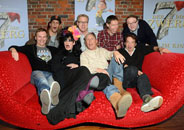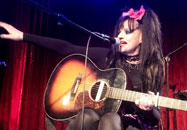 On the day the feature film premiered at the Zoo Palast in Berlin (September 21st) there was a release event in the Passionskirche for the album "Poem-Leonard Cohen in Deutscher Sprache" for his 80. birthday. Many artists join the event, some of them have sung a song on the cd. Nina sings "Am dunklen Fluss".
During the year Nina is on gospel tour and performs gospels in the Gethsemane-Kirche (October 13th), in Budapest (October 19th) and other places.
From October 31th the sampler "Mauerfall - The legendary concert for Berlin '89" is available - Nina sings the song "My Way".
The ARD-program "Deutschland, deine Künstler" (Germany's artists) shows a portrait about Nina, November 16th.
The RTL-TV-Show "Die ultimative Chartshow - Die erfolgreichsten Michael Jackson-Songs aller Zeiten!" on November 21st features Nina's cover version of Jackson's "Heal the World".
On December 6th Nina and Band travel to Tel Aviv, Israel for a concert.
Back in Germany Nina gives a concert at the 3rd advent in Passau. She sings christmas songs, songs about love and peace, the concert includes poems by Ilona Haslbauer.
On December 31rd joins the New Years Eve's "Ultimative Chart Show - Die erfolgreichsten Alben des Jahres 2014" at RTL.

2015 2015 Nina Hagen will be 60 years young this year, Boulevard shows such as "Zipp", "Leute Heute" (ZDF, June 30th) and "Exclusiv" (RTL) show short TV recordings on March 11th.
Nina spends her birthday in her beloved Berlin ensemble with Klampfe and friends as well as guests on stage.
"Nina Hagen goes Gospel" in Jena and on a spring tour through France. On April 3rd the duo Arling & Camerondie will release their new CD "Good Times" with the song "Eve" den Nina einsang.
On April 26th Nina will perform in honour of Günter Grass at Hamburg's Ohnsorg Theater (along with Feridun Zaimoglu and others), as part of the "5th Renewable Reading Days". Nina's contributions are songs based on texts by Bertolt Brecht and Matthias Claudius. Info: "www.lesen-ohne-atomstrom.de"
Nina is a guest in the "NDR Talk Show" (November 13th), one month later (December 13th), the channel N24 shows a documentary about Udo Lindenberg "Udo and Berlin!", Nina remembers...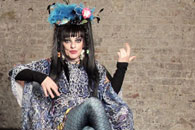 2016 Nina Hagen celebrates her 45th stage anniversary!
The queer documentary fiction "Desire will set you free" by US director Yony Leyser starts in German cinemas. Nina Hagen plays a guest role in it. From December 2016, the film will also be released on DVD.
Nina is involved in the project "Gutterdämmerung" by the Belgian-Swedish artist Björn Tagemose, an experimental cross between cinema and live performances (premiere in Berlin on 6 May). Well-known musicians take part, including Nina Hagen
She contributes two songs to the album "The Key" by Philippos Pliatsikas. It will be released on May 30th by the new Berlin label Rare Emotions.
The Theater Aachen produces a "musical evening" with the title "Nina Hagen - Fürchtet Euch nicht!" The premiere will take place on 19 November in Mörgens an der Mörgensstraße. There will be five more performances.
Nina Hagen & Band are back on tour between March and October 2016, performing for 17 concerts in Paris, Groningen, Stockholm, Helsinki and Luxembourg. She is especially happy about the event on September 24th, where Nina and her longtime friend, the singer Lene Lovich, will be on stage at "Sheperd's Bush".
Most of Nina's performances will be in the Berliner Ensemble with her "Brecht-Lieder-zur-Klampfe-Abend".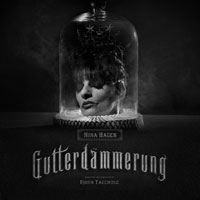 2017-2018 Various performances of Nina Hagen & Band, the Acoustic-Gospel-Rock-Tour, as well as her legendary "BRECHT-LIEDER-ZUR-KLAMPFE-Abend", especially in Germany, Switzerland and France. In Chauny, France, she will take part in the "Rock'n Festival #6" on April 1th, 2017.
On 14th March 2018 Nina Hagen & Band will open the exhibition "Oh Yeah! Pop Music in Germany" at the Museum für Kommunikation Berlin/Germany.
In 2018 three books will be published in which Nina Hagen appears. "Berlin liegt am Meer" by Irene Moessinger, "Es geht voran: Die Geschichte der deutschsprachigen Popmusik" by Manfred Prescher and a photo volume by Günter Zint: "Wilde Zeiten".
On 29th September 2018 Nina will be in the show "Wer weiss denn soas? XXL" (Das Erste).






2019 On January 2nd Nina is together with Cosma Shiva in the show "Who knows that?" (The first one). This show has the highest ratings of the series so far.
Two books have been published this year in which Nina is featured. "Berlinerinnen: 13 Frauen, die die Stadt bewegten" by Barbara Sichtermann and Ingo Rose. The volume "Quartier Latin: Berlin's legendary music shop 1970-1989" contains, among other things, pictures of her first appearance in Germany, which suddenly made her famous in the West.
As "Original Vinyl Classics" the albums "Nina Hagen Band" and "Unbehagen" will be re-released as double LP on April 5th.





The Nina Hagen Archive goes to the museum! From 03th October to 12th January 2020 the "Theatermuseum Hannover" presents a Nina Hagen exhibition! Numerous exhibits from Arne Buhrdorf's collection will be on display. On the evening of the opening Nina gives a concert in the Schauspielhaus Hannover.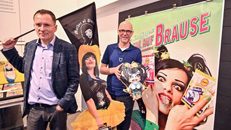 ---